This TV play was written before Abu Ghraib, when the first evidence of torture was revealed in The Washington Post. It never found a publisher. Go figure.
TWO GUYS IN SUITS; TV STUDIO.
HOST
Welcome, sir, to Greet the Press, public television's answer to–well, whatever. Before we start rolling, perhaps we could go over the Q&A, so there won't be any surprises.
GUEST 
(straightens tie)
Of course. Always best to be prepared.
HOST
I hope you are prepared, as the Administration's chief spokesperson, to answer some tough questions.
GUEST
You bet. The President is dealing with tough times, which call for tough policies. If that means tough questions, I'm ready to endure a little "stress and duress" from the press, ha ha. That's what democracy's all about, isn't it? But aren't Newsweek and the NY Times supposed to be here?
HOST
We formed a pool, so the wrong questions wouldn't be asked. We realize that the War on Terror requires a heightened sensitivity to security.
GUEST
Admirable. Let me say, since I can speak for him, that the President appreciates your spirit of responsibility. But I know I can count on you to ask the proper questions. And you can count on me not to answer any that might impede our national security efforts.
HOST
You never know. We have some new interview techniques, and you might find yourself answering questions you didn't intend to. And the pool format gives us a certain institutional deniability, which keeps our options open.
GUEST
Since when does the press need deniability? And where's the studio audience? Isn't this supposed to be a live program?
HOST
That was before 9/11. We changed our format in the interest of security. We have a responsibility to the sensitivities of the public.
GUEST
Well, if you insist. I guess all that comes under Freedom of the Press. So let's get on with it.
HOST
We intend to.
LIGHTS, CAMERA. THEY ARE ON THE AIR. PERHAPS THE POV CHANGES SLIGHTLY
HOST
Our GUEST today is a man who needs no introduction. The Administration's chief spokesman and an expert in the War on Terror. Welcome, sir. I'd like to begin by asking you  about the use of torture in interrogation. As you know there have been a lot of questions about …
GUEST
Whoa! The US doesn't torture. The President has stated that time and again. (sotto) And we agreed that there wouldn't be any questions on that subject, remember?
HOST
Well, yeah, but we would have agreed to anything to get you on this show. Surely you can understand that special circumstances call for special measures.
GUEST
Whatever. Are we really on the air? 
Say, can I get a glass of water?
I notice they didn't bring me any.
HOST
There'll be plenty of water later on. Now, about the men being held in Guantanamo. Are the provisions of the Geneva Conventions on prisoners of war being violated there?
GUEST
Of course not. The Geneva Conventions don't apply to the War on Terror. The President has stated that as well. It's all on record. And can I get another chair? This thing is digging into my back.
HOST
I'll see what I can do. But first, tell us about the conditions of detention at Abu Ghraib prison in Iraq.
GUEST
They're rough. What do you expect? This is not a tea party, and those men are not prisoners of war.
They are combatants in a war of terror.
HOST
Aren't we all, these days. Certainly as the chief spokesperson for our Commander-in-Chief, you yourself would come under the designation of combatant.
GUEST
There's a distinction between lawful and unlawful combatants. Anyway the so-called abuse at Abu Ghraib was just a few bad apples. And in the meantime, this chair is extremely uncomfortable. It's cutting off the circulation in my legs.
HOST
I guess the distinctions are getting a little blurry. And I'm sorry about the chair. We can fix you up with something better if you will be a little more cooperative. 
GUEST
What do you mean, cooperative? Let me remind you that I am here as your GUEST.
HOST
Oh, we're very conscious of that. In fact, we are prepared to take extraordinary measures to make sure that you remain here as our GUEST.
UNIFORMED SOLDIERS ENTER. PULL OFF HIS CLOTHES 
AND DUCT TAPE HIM TO THE CHAIR.
GUEST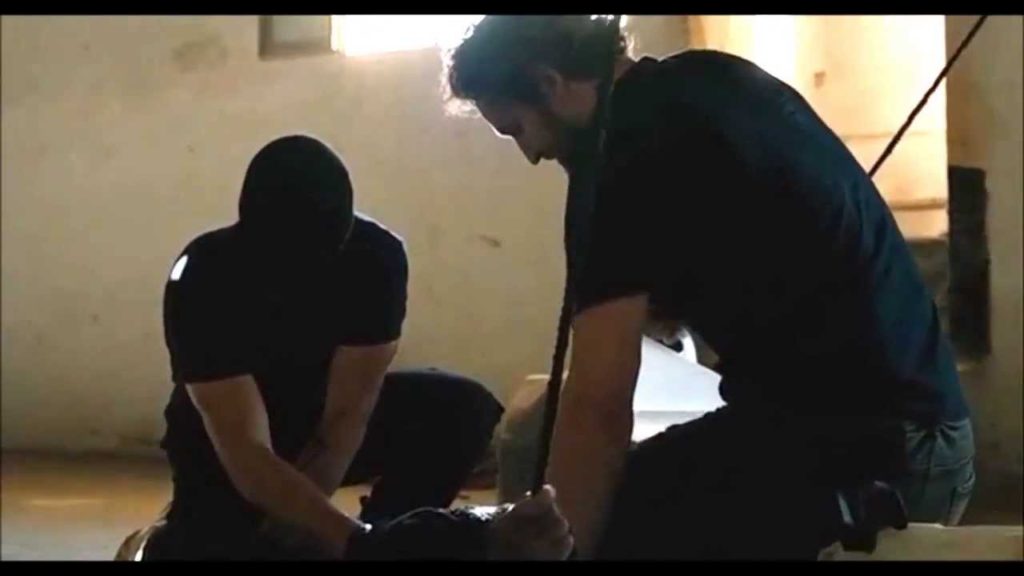 Hey! That's my tie! Let go of me. Who are these guys?
Why are they duct-taping me to the chair? Hey! My pants —
HOST
They're Army Reservists. We have our bad apples, too. They are useful in every endeavour.
GUEST
You're going to interview me in the nude? This is an outrage. I protest!
HOST
That's certainly your right, sir. Fold his clothes carefully, guys. That's a nice suit, by the way. Hong Kong?
SOLDIERS SALUTE AND LEAVE.
GUEST
Bangkok, god damn it! Why is it so cold in here? I'm freezing. And this tape is too tight.
HOST
It's hard to adjust tape. But I'm going to get you that water you asked for. You know, you're just making it harder on yourself by squirming like that.
A TECH ENTERS WITH AN ELECTRICAL DEVICE.
GUEST
I'm cold! Can't we just … Who the hell is this?
HOST
An Israeli consultant. They're they're pretty good
at not leaving marks, which I'm sure you will appreciate. And they owe us a favor or two.
GUEST
What the heck is that thing? Ow!
KNEELING, VERY BUSINESSLIKE, THE ISRAELI ATTACHES WIRES TO HIS GENITALS.
HOST
Some kind of electrical gizmo. You know the Israelis! They have all sorts of high tech ways of stimulating conversation.
ZAPPED, THE  GUEST SCREAMS. ZAPPED, HE SCREAMS AGAIN.
HOST
And that's all we are interested in, a candid conversation about a matter of interest to all civilized people. Torture.
ISRAELI DISCONNECTS MACHINE AND LEAVES. 
GUEST
(weeping)
What do you know about civilized people, you barbarian! And I already told you, we don't torture.
HOST
That's good to know. This isn't torture then. The American people will be reassured to hear that. But what about waterboarding? A lot of people have questions about that.
GUEST
No!
HOST
I understand that it's one of the enhanced interrogation techniques that have been approved by the Attorney General.
It's not torture either. Ah, here's our water now.
TWO MEN ENTER. ONE WITH A PITCHER OF WATER,ONE WITH A BURLAP BAG.
GUEST
No, please!
THEY PUT THE BAG OVER HIS HEAD, AND TIP HIS CHAIR BACK SO HE IS HEAD DOWN. POUR WATER OVER HIS MOUTH AND NOSE, SLOWLY, CAREFULLY. GAGGING SOUNDS.
HOST
Sorry we don't have the actual board. The chair will have to do. Budget cuts, you know. You guys have cut public TV to the bone. Not that we have any hard feelings. We all have our jobs to do.
THEY SET HIM BACK UP AND LEAVE, AFTER PLUCKING OFF THE BAG. 
GUEST IS ALL BUT DEAD. GASPING.
GUEST
You savage … you can't … show this … on TV …
HOST
Point taken. We may have to destroy the tapes, to protect, as they say, the innocent.
GUEST 
(gasping)
Innocent?
HOST
We don't torture either. But go ahead and catch your breath. Some of this enhanced interrogation stuff can be exhausting, I know. (A BEAT) Now, one last question if you don't mind. It's about this Extraordinary Rendition business. The CIA's program of turning detainees over to allies who are, let's say, less squeamish about the actual use of torture.
GUEST'S EYES ARE CLOSED. HE LOOKS DEFEATED.
GUEST
You bastard. You know I can't tell you anything about that.
HOST
Of course not. You would lose your job, and I understand that you have your principles. But I just wanted to give you the opportunity, before the Pakistanis get here. They do leave marks, I'm afraid.
GUEST 
(opening his eyes)
The Pakistanis!?
HOST
Surely you know them, they're a vital part of the Coalition against Terror. Speak of the devil. Here they are!
ENTER PAKISTANIS. ONE WITH A POWER DRILL, ONE WITH PLIERS.
CLOSE ON 
GUEST'S TERRIFIED EYES. SOUND OF DRILL—
(Thanks for your interest in my work. If you enjoyed this little piece, please give a dollar to a homeless person.)